Sept. 5, 2022 Love For His People Ministry in Charlotte, North Carolina USA

Greetings to my family and friends of Love For His People Ministry.

In writing this last message before Laurie and I depart for Israel this week, I took note of the words Nehemiah wrote as he returned to Jerusalem in his day. As with all Scripture, it is an opportunity to see how the Lord instructed him and gave him his assigned task of rebuilding Jerusalem.

Did you know you also have that task? Most Christians don't. For my early years in this walk of faith, I myself knew nothing of this either until the great Bible teacher Derek Prince told me and others gathered at that conference held at Mackinac Island in northern Michigan in 1979. What an eye-opener it was. But more importantly, what a heart change occurred within, leading to many decades-long assignments.

So before I jet out, here is this message for you, included below: Build On. Each Doing Their Part.

In my previous connection email, I also let you know David Peterman and I completed four more videos which I include below. I hope you take the time to be encouraged as you listen to each.

Here is one entitled Spiritual Warfare.

Have a good week. My next message will be from Jerusalem!

Ahava and shalom my friends,




Steve Martin, Founder, Love For His People Ministry

P.S. Thank you very much to those who have already generously given donations for Laurie and me to take with us to Israel from Sept. 7-14, 2022. Rarely do we ask others for funds to bless families and ministries there, but if you would like us to hand deliver a gift that you share today, there is still time. Please DONATE NOW, or do so before Sept. 6, 2022. Thanks! Nissim and Hadassah Lerner, Avraham, Nouri, Chaim, and others give thanks too!
Build On. Each Doing Their Part. Steve Martin

"We kept at it, repairing and rebuilding the wall. The whole wall was soon joined together and halfway to its intended height because the people had a heart for the work." Nehemiah 4:6, THE MESSAGE

The books of Ezra and Nehemiah in the Bible normally don't get a lot of attention these days. They can easily be dismissed among those having the "that was for then, but we have today" mindset. But all the Word of God is for our edification, teaching, and training, and we need to pay attention.

"All Scripture is given by inspiration of God, and is profitable for doctrine, for reproof, for correction, for instruction in righteousness, that the man of God may be complete, thoroughly equipped for every good work." 2 Timothy 3:16-17, NKJV

When I spent time reading how the Lord put in the heart of Ezra and Nehemiah to go from Persia (roughly modern-day Iran), having been in captivity there for many years, to return to Jerusalem and build up the ruined walls and burned down gates of the Jewish city, the Holy Spirit specifically pointed out two things to me.

1. The King of Persia (a Gentile/non-Jew) provided the protection and the provision.

2. Each one rebuilding the walls alongside Nehemiah was called by name and listed accordingly, with each person having a specific part and role in the building.

Regarding #1, Nehemiah records this historic fact as he wrote, "Furthermore I said to the king, "If it pleases the king, let letters be given to me for the governors of the region beyond the River, that they must permit me to pass through till I come to Judah, and a letter to Asaph the keeper of the king's forest, that he must give me timber to make beams for the gates of the citadel which pertains to the temple, for the city wall, and for the house that I will occupy." And the king granted them to me according to the good hand of my God upon me." Nehemiah 2:7-8, NKJV

A non-Jew had been appointed and set in place by God to perform the needed actions, assisting the Jews in their return to the Land and rebuilding. As a Gentile myself, this is a very important fact, as today we have been given the same role – to provide for the Jews to return to Israel and rebuild their cities and lands. This worldwide phenomenon is known as aliyah in Hebrew. "Thus says the Lord God, "Behold, I will lift up My hand to the nations and set up My standard to the peoples; and they will bring your sons in their bosom, and your daughters will be carried on their shoulders." Isaiah 49:22, NASU

As for topic #2, I was amazingly aware that the Lord had also assigned very specific roles and locations for each one to do their part in the rebuilding. And Nehemiah, under the guidance and inspiration of the Holy Spirit, records each name and what exact section they were given to do in the rebuilding.

It is the same today for you and me. Each of us has been given specific gifts, talents, and means to do our part in the building up of the Church body here and now, but we also have a very vital part in providing for the Jews in their fulfillment of the vast number of prophetic words in the Bible, whereas the Lord Himself would bring them back to their Land in our day (aliyah) and restore them as a sign to the nations of His eternal faithfulness and commitment. What an important role we each have!

Each time I travel back to Israel from the USA, I recommit myself to do my part, carrying on my shoulders the task and responsibility to be a part of this tremendous work our God is doing, as He brings the Jews home. May you become more aware of your part too and walk it out along with others.

Please share this messagewith your friends through your email, on Facebook, Twitter, Instagram, Tumblr, LinkedIn, GETTR, and more. Others will be thankful you did. And I thank you too. Message #104 in this series – in the year of our Lord 09.05.2022 – "Build On", Monday, 6:28 am in Charlotte, North Carolina, USA
Steve Martin, David Peterman, Love For His PeopleAhava (Love) Moments With You
"Spiritual Warfare"
| | |
| --- | --- |
| | Here is a taste of the worship time we have during a recent home group gathering in Charlotte, North Carolina, led by David Peterman and myself, Steve Martin. For Your Name is Holy We are believing the Lord is having us start another one in Waxhaw, NC for the younger generation. Details to follow in an upcoming e-mail.Shalom to all! |
| | |
| --- | --- |
| I love recording and sharing my Walk With Me video series with you. Here is one from Jerusalem recorded in April 2022. Our good friend Nouri Hawa took us to biblical Bethany, to the Tomb of Lazarus. Not many tour buses take you there, but I do in this video! Watch and be blessed too! | |
SILENCE IS NOT GOLDEN by Steve Martin (published August 21, 2022)

There was a song popular in 1967 entitled, "Silence Is Golden" by The Tremeloes. They were a British band sharing their songs there and in the USA.

But that was then. This is now. We are not to be silent when our voices and courage are to be loud and strong. As believers in the Lord Jesus Christ, we are called to speak His Word, share His love, do that which He has commissioned and ordained us to do. That means speaking up.

SILENCE IS NOT GOLDEN are messages to inspire and encourage you to speak, write, go, and do that which the Lord has put in your heart to do. We must do it now, or it will be too late.It is our moment to shine. It is our time, given to us by the Lord Jesus Christ, to take His love, His life, to a needing and dying world. His sacrifice on the cross, His death, His resurrection, had brought Him to this earth to save the nations. Not one. Not two. But all. And He has called us to let the world know.

Do not be silent, for silence is not golden.

Through the Jewish people, whom He chose to express His eternal love, He has shown that He is able to deliver what He has promised and will fulfill all that He has yet to finish. Just look at Israel and the return of the Jews after centuries. It is all in the prophetic Scriptures.

This book is to encourage you to speak up, stand up, be the one whom the Lord has called, appointed, and anointed you to be.

As it was in a popular commercial years ago, before the "wokeness" and "cancel culture" overwhelmed the people with its godless agenda, the USA Armed Services had the statement, "Be all you can be."My word to you is, "Be all He has called you to be!"With this, I hope you read the inspired words the Holy Spirit has given me, and for those not quite into "reading" – enjoy the many photos and images I include!

To purchase on Amazon: SILENCE IS NOT GOLDEN- Paperback $9.95 Hardback $12.95 E-book $2.99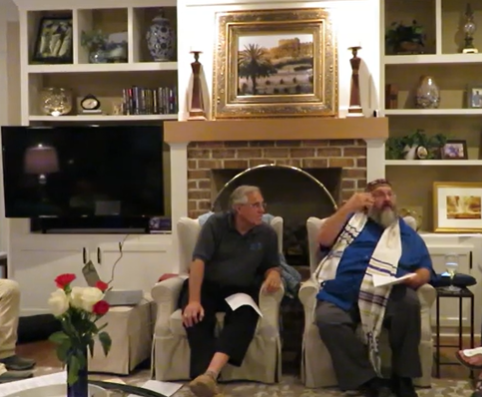 Ahava (Love) Moments With You, Steve Martin and David Peterman

David Peterman and I are available to come and minister to your home group, church, or Messianic synagogue to share what we have found in our Lord Yeshua (Jesus) and now walk out in faith – a love for Israel, the Jews, and believers. We speak from our hearts and experiences based on biblical disciplines, with foundational Jewish roots, and continuing onward through to the end of the Book in Revelation, to strengthen the One New Man in Yeshua.

We look forward to hearing from you if you would like to invite us to come.

Contact us at either Steve Martin (loveforhispeople@gmail.com) or David Peterman (rabbiahava@gmail.com). Further details will be shared as we hear from you.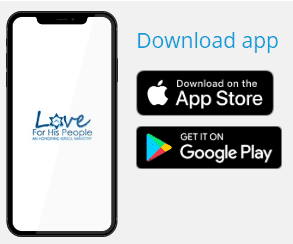 SPECIAL NOTE: Our ministry's mobile app is available for iPhones and Androids. This is a free app download. Look here: Love For His People free phone app

Love For His People Ministry. is a charitable, USA humanitarian ministry started in 2010 to share the love of the Father in the nations, especially to and within Israel. If these letters minister to you, please consider sending a charitable gift of $5-$25 today, and maybe each month, to help us bless known families in Israel, whom we consistently help through our humanitarian ministry.

Go here for safe ONLINE GIFT GIVING THROUGH OUR WEBSITE using major credit cards, Zelle, or PayPal

Contribution checks can be sent to: Love For His People Ministry P.O. Box 53 Pineville, NC 28134

Todah rabah! (Hebrew – Thank you very much.)

Please share this encouraging message with your friends.

Email: loveforhispeople@gmail.commartinlighthouse@gmail.com
Full website:Love For His People Ministry
Facebook page: Steve Martin
Twitter: Martinlighthouse
Blog: Love For His People
YouTube: Steve Martin/Love For His People, Ahava Moments With You

You can sign up for my email messages: Love For His People. The sign-up form is on our ministry website: ministry newsletter E-mail: loveforhispeople@gmail.com