Sept. 16, 2022 Charlotte, North Carolina USA

Greetings to my family and friends of Love For His People Ministry.

We all know that in these times people prefer short videos and "less than 3-minute" written reports. No wonder TikTok has become so popular, as Twitter was when it was the hot app. And I know the skimmers on Facebook may click "Like" but not jump off to actually read attachments.

Our society has become the people who like to scroll and just see the headlines. It is the way we live. Quick and easy.

At the same time, e-mail is becoming less and less of a way of communicating. People's InBoxes get filled up and it leaves them overwhelmed at times. I get it! Mine too!

With that being said, I am sensing even more that the Lord is giving me additional teaching and inspirational messages to share. At one time I resisted...but I must now do that in obedience as I am called to do. Our generation and the ones following us need solid teaching, not just "tickle-me-ears" stuff that was prophesied long ago by the followers of Yeshua (Jesus) after He ascended into heaven.

For these times we live in, we need solid teaching. Not just "feel-good" stuff or the latest prophetic word (which I too like to hear myself). But in order to confront the lies and false teaching that abounds, we need to stand firmly on the Lord's eternal Word, which will not change, and will not pass away. We need to know and understand what He has said to us already in His written Word.

With that being said, and so as to not be among those who fill up your InBox with daily or too frequent emails, I will be sending out fewer emails and primarily posting all of my new messages on our ministry website page, Love For His People Ministry on your desktop/laptop computers. They will automatically be posted also on our free app for iPhones and Androids, which you can download in the Apple store or Google Play. I hope you do.

See here for free app downloads and e-mail signup: Sign Up Here or go straight to your app download source and find the Love For His People app.

Once the messages are posted on our website, I will also re-post them on GETTR @martinlighthous, Facebook, LinkedIn - Steve Martin, and Twitter @martinlighthous platforms. Our videos will be found also on YouTube - SteveMartinLoveForHisPeople and Rumble - martinlighthouse

While I was in Jerusalem this week I wrote Generations (see below) and recorded "Western Wall Plaza in the Old City of Jerusalem" - Walk With Me - Jerusalem Ahava Adventures - both were read and looked at the most thus far among all that I shared. Check them out again or for the first time.

Please subscribe to our YouTube channel so you get all the new ones uploaded.

Have a good day with the Lord. He is walking with us as His Holy Spirit guides our steps.

Ahava and shalom,




Steve Martin, Founder, Love For His People Ministry

P.S. I am going back to Israel Oct. 23-Nov. 12, 2022 for more Love For His People Ministry, and bringing my friend for over 25 years Edgar Persad with me. This will be his 1st trip to Israel, and he will be 70 on July 4, 2023. Never too late to go to the Land and serve His people!

P.S.S. Ever get a new hardback for only $12.95? Well, now you can! My last book entitled Silence Is Not Golden is only $12.95. The paperback is $9.95. You can Buy now.
Generations

"He will turn the hearts of the fathers to the children and the hearts of the children to their fathers; otherwise I will come and strike the land with complete destruction." Malachi 3:24, Complete Jewish Bible

It was good to continue my daily reading in my One New Man Bible as I sat in the green armed chair, along the corner wall in the colorful, labyrinth hallway on the third floor of the Abraham Hostel, across from our room 322, here in Jerusalem, Israel. Laurie and I had started out in Room 320, but on the third day they moved us due to the dripping from the hot water heater (shower) in the bathroom.

Being a guy, I could have just stayed and dealt with it, but the good wife had them move us. Conveniently, it was to the next door down, 322. Never had I moved a household so easily, after growing up in Iowa, moving to Illinois, then 7 years in Michigan, 7 years in Florida, and the last 28 years in Charlotte, North Carolina.

The hostel is strategically located just off Jaffa Street near the light rail train in central Jerusalem, across from the King of King's congregation building on the southwest corner. With easy walking distance to the Old City, the open marketplace shouk, or to our friends' shops on Ben Yehuda Street, the Good Lord has had me here two times now. A third time will be in April 2023 with 8 others from the USA Carolinas.

That is a lot of numbers. I tend to pay attention to numbers being I have lived an accountant's life much of my life career, having them always before me. I appreciate the Lord Himself paying attention to numbers too. Seven days in the beginning. The boy had 5 loaves and 2 fish. (Or maybe 5 fish and 2 loaves?) And then the disciples caught 153 fish.

Why would that matter how many they caught, to be the exact number? Who counted them, if you ever thought about that? And as I read the Word again this morning from the Gospel of Matthew, primarily written to the Jews with its listing of the lineage of the Messiah Yeshua, Jesus Christ, through the father's line, I again comprehended the fact of three groups of 14 generations. I know there is a specific reason for that.




When I opened my laptop to write this daily "Ahava Adventure in Jerusalem" message, which the Holy Spirit said to name it "Generations", the wallpaper photo on it is of our family from two years ago in our Charlotte-area home's backyard. My Mom in front, Laurie, and I in the back surrounded by our four adult children with spouses, and the eight grandkids, still counting at that time. (There yet remains 8.) Generations. Three of them. Each ordained and chosen by God for a specific place, time, and assignment. Each called by the Creator to live for Him, walk with Him, and share eternal life with Him.

I like these verses, from Acts 17:26-28, "…and He made from one man every nation of mankind to live on all the face of the earth, having determined their appointed times and the boundaries of their habitation, that they would seek God, if perhaps they might grope for Him and find Him, though He is not far from each one of us; for in Him we live and move and exist…" NASB

As I approach the 70-year mark in two years times, more and more I realize how our generation needs to impact more so the next one, so they in turn dutifully impact the next one. Each is not to grow up apart from the ones who have gone before, blazing a trail, and then the ones that follow, seeking to also know the way. Jesus is The Way, the Truth, and the Life.

There is no other one worth following nor no other life worth living, apart from Him. As Laurie and I walk the streets of Jerusalem and see several generations relating to one another, with respect, honor, and joy in their hearts, I am ever reminded of the opportunity given to me to raise up, train, and then release the ones who call me Dad and Grandpa. For each of us, it must be a relational thing, not a title or someone to be separated from after a few decades under the same roof.

We can learn a lot from the Bible, the generations listed, and those whom we read about as we have been instructed to do. As I personally visualize the Jewish generations living life here, in Israel, I can learn even more, so as to pass on to those who follow after me. I hope you do the same, in Christ, our Messiah.

Ahava and shalom, Steve Martin

Love For His PeopleFounder

Message #107 in this series – in the year of our Lord 09.11.2022 – "Generations", Sunday, 5:35 am in Jerusalem, Israel
| | |
| --- | --- |
| Since I first met my now good friend, Nouri Hawa, while in Jerusalem in October 2019, it has always been a real delight to be with him.If you need a great taxi driver in Israel, call or WhatsApp him: +972-54-7766260) He will be there for you. But until then, come "Ride and Walk With Me" as he takes Laurie and me up to the Mount of Olives, using the very narrow road behind the Garden of Gethsemane and Church of All Nations in Jerusalem. But I warn you...hang on! | |
SILENCE IS NOT GOLDEN by Steve Martin (published August 21, 2022)

There was a song popular in 1967 entitled, "Silence Is Golden" by The Tremeloes. They were a British band sharing their songs there and in the USA.

But that was then. This is now. We are not to be silent when our voices and courage are to be loud and strong.As believers in the Lord Jesus Christ, we are called to speak His Word, share His love, do that which He has commissioned and ordained us to do. That means speaking up.

SILENCE IS NOT GOLDEN are messages to inspire and encourage you to speak, write, go, and do that which the Lord has put in your heart to do. We must do it now, or it will be too late.

It is our moment to shine. It is our time, given to us by the Lord Jesus Christ, to take His love, His life, to a needing and dying world. His sacrifice on the cross, His death, His resurrection, had brought Him to this earth to save the nations. Not one. Not two. But all. And He has called us to let the world know.

Do not be silent, for silence is not golden.

Through the Jewish people, whom He chose to express His eternal love, He has shown that He is able to deliver what He has promised and will fulfill all that He has yet to finish. Just look at Israel and the return of the Jews after centuries. It is all in the prophetic Scriptures.

This book is to encourage you to speak up, stand up, be the one whom the Lord has called, appointed, and anointed you to be.

As it was in a popular commercial years ago, before the "wokeness" and "cancel culture" overwhelmed the people with its godless agenda, the USA Armed Services had the statement, "Be all you can be."My word to you is, "Be all He has called you to be!"With this, I hope you read the inspired words the Holy Spirit has given me, and for those not quite into "reading" – enjoy the many photos and images I include!

Steve MartinCharlotte, North Carolina USA

To purchase on Amazon: SILENCE IS NOT GOLDEN- Paperback $9.95 Hardback $12.95 E-book $2.99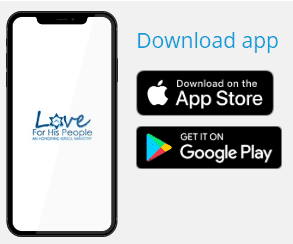 SPECIAL NOTE: Our ministry's mobile app is available for iPhones and Androids. This is a free app download. Look here: Love For His People free phone app

Love For His People Ministry. is a charitable, USA humanitarian ministry started in 2010 to share the love of the Father in the nations, especially to and within Israel. If these letters minister to you, please consider sending a charitable gift of $5-$25 today, and maybe each month, to help us bless known families in Israel, whom we consistently help through our humanitarian ministry.

Go here for safe ONLINE GIFT GIVING THROUGH OUR WEBSITE using major credit cards, Zelle, or PayPal Contribution checks can be sent to: Love For His People Ministry P.O. Box 53 Pineville, NC 28134

Todah rabah! (Hebrew – Thank you very much.) Please share this encouraging message with your friends.

Email: loveforhispeople@gmail.commartinlighthouse@gmail.com
Full website:Love For His People Ministry