Sept. 9, 2022 Jerusalem, Israel Love For His People Ministry

Greetings to my family and friends of Love For His People Ministry.

We have arrived! Both Laurie and I stepped onto Jaffa Street in Jerusalem, Israel Thursday evening around 7:30 pm here. And it is good to be home!

As promised, I will try to send daily messages from here, along with "Walk With Me" videos. I want you to feel as if you are right here too. Someday I hope you are, as I believe the Lord is making the way to have me come 3 times a year, bringing others. Pray about it and He will let you know.

Today's message is entitled We Carry Them. This is for the people who believe in God. You!

Ahava and shalom my friends,




Steve Martin, Founder, Love For His People Ministry

P.S. Be sure to read each message and watch each video as they come. You will be glad you did.
We Carry Them

"Thus says the Lord God: "Behold, I will lift My hand in an oath to the nations, and set up My standard for the peoples; they shall bring your sons in their arms, and your daughters shall be carried on their shoulders;" Isaiah 49:22, NKJV

Ancient prophecies proclaimed and then recorded centuries ago by the Hebrew prophets in the land of Israel are being fulfilled today. Do you want to hear a good prophetic word? Heed the words that came forth from those who were in the Land and spoke by the urging of the Holy Spirit.

We are a fulfillment of those words, who are now helping the Jewish people return to their land, making aliyah ("going up" in Hebrew). The Promised Land. The Land was given to them since the days of their patriarch Abraham when he heard God's voice saying to him, "Now the Lord said to Abram, "Go forth from your country, and from your relatives and from your father's house, to the land which I will show you; ad I will make you a great nation, and I will bless you, and make your name great; and so you shall be a blessing; and I will bless those who bless you, and the one who curses you I will curse. And in you all the families of the earth will be blessed." Genesis 12:1-3, NASU

Gentiles, non-Jews, goyim in Hebrew, who know the Bible, believing the written words from the first book of Genesis to the end when Jesus (Yeshua) returns to Jerusalem, Israel, will act on those words, and do what we have been called to do. Carry the Jews back as we assist in support through prayer, finances, encouragement, and whatever provision has been given to us at our disposal, to be used in this divine act of God. Today, we are standing with feet on the ground in Israel, ourselves a part of helping bring the Jews back to their land and manifesting the eternal truth as we too proclaim along with Isaiah, "they shall bring your sons in their arms, and your daughters shall be carried on their shoulders." Isaiah 49:22

Love For His People Ministry, founded in 2010 for this very purpose, to bless Israel and His people, is walking it out in the Land of Israel, as we have again come to bring Yeshua's (Jesus') love and life, His encouragement, His faith and hope to these who have already returned and inhabiting the place which has been given to them, since the days of Abraham.

"Walk with me", as I like to say in my videos, as we again experience the goodness of the Lord among His people. "Come and see", as The Chosen TV series likes to say, as I share in these messages and through the sights and sounds that come your way, the marvelous acts of our God being done in our day. What a day we are living in! Even so, "Bo Yeshua". Maranatha! Come Jesus!

Ahava and shalom,

Steve Martin, Love For His People, Founder

Please share this messagewith your friends through your email, on Facebook, Twitter, Instagram, Tumblr, LinkedIn, GETTR, and more. Others will be thankful you did. And I thank you too. Message #106 in this series – in the year of our Lord 09.09.2022 – "We Carry Them", Friday, 4:10 am in Jerusalem, Israel
SILENCE IS NOT GOLDEN by Steve Martin (published August 21, 2022)

There was a song popular in 1967 entitled, "Silence Is Golden" by The Tremeloes. They were a British band sharing their songs there and in the USA.

But that was then. This is now. We are not to be silent when our voices and courage are to be loud and strong. As believers in the Lord Jesus Christ, we are called to speak His Word, share His love, do that which He has commissioned and ordained us to do. That means speaking up.

SILENCE IS NOT GOLDEN are messages to inspire and encourage you to speak, write, go, and do that which the Lord has put in your heart to do. We must do it now, or it will be too late. It is our moment to shine. It is our time, given to us by the Lord Jesus Christ, to take His love, His life, to a needing and dying world. His sacrifice on the cross, His death, His resurrection, had brought Him to this earth to save the nations. Not one. Not two. But all. And He has called us to let the world know.

Do not be silent, for silence is not golden. Through the Jewish people, whom He chose to express His eternal love, He has shown that He is able to deliver what He has promised and will fulfill all that He has yet to finish. Just look at Israel and the return of the Jews after centuries. It is all in the prophetic Scriptures.

This book is to encourage you to speak up, stand up, be the one whom the Lord has called, appointed, and anointed you to be. As it was in a popular commercial years ago, before the "wokeness" and "cancel culture" overwhelmed the people with its godless agenda, the USA Armed Services had the statement, "Be all you can be."My word to you is, "Be all He has called you to be!"With this, I hope you read the inspired words the Holy Spirit has given me, and for those not quite into "reading" – enjoy the many photos and images I include!

To purchase on Amazon: SILENCE IS NOT GOLDEN- Paperback $9.95 Hardback $12.95 E-book $2.99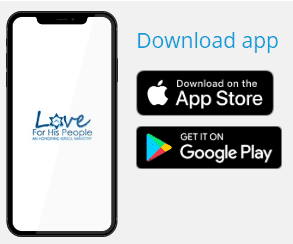 SPECIAL NOTE: Our ministry's mobile app is available for iPhones and Androids. This is a free app download. Look here: Love For His People free phone app

Love For His People Ministry. is a charitable, USA humanitarian ministry started in 2010 to share the love of the Father in the nations, especially to and within Israel. If these letters minister to you, please consider sending a charitable gift of $5-$25 today, and maybe each month, to help us bless known families in Israel, whom we consistently help through our humanitarian ministry. Go here for safe ONLINE GIFT GIVING THROUGH OUR WEBSITE using major credit cards, Zelle, or PayPal

Contribution checks can be sent to: Love For His People Ministry P.O. Box 53 Pineville, NC 28134

Todah rabah! (Hebrew – Thank you very much.) Please share this encouraging message with your friends.

Email: loveforhispeople@gmail.commartinlighthouse@gmail.com Full website:Love For His People Ministry Facebook page: Steve Martin Twitter: Martinlighthouse Blog: Love For His People YouTube: Steve Martin/Love For His People, Ahava Moments With You

Look here: Love For His People - sign up/free app You can sign up for my email messages: Love For His People. The sign-up form is on our ministry website: ministry newsletter E-mail: loveforhispeople@gmail.com