Sept. 20, 2022 Charlotte, North Carolina USA

Greetings to my family and friends of Love For His People Ministry.

I love the fall season. My good wife Laurie sure does too. The heat is a bit too much for her in these parts of the South during the summer. And yet, we love North Carolina and the Lord's hand on this place He has given us to inhabit.

And with the Feasts of the Lord coming this month, what a great time to love our Lord and His ways.

As I asked the Lord what He would have me share with you, the answer came from my daily reading in His Word. Specifically, as I continued reading in 1 Samuel about the relationship between Saul and David. Each paid a price for what they did. One was good. The other...not so much.

And so I wrote, "It Will Cost You". See below.

I look forward to David Peterman and I "back on track" (pun intended!) in recording more "Ahava Moments With You." Once those are ready to upload, you will find them on our website along with previous ones, and also on the Love For His People YouTube channel, Ahava Moments With You. So far we have recorded 57 total! Check them out.

Enjoy the fall season. Get out and thank the Lord that He is in full control of all things.

Ahava and shalom,




Steve Martin, Founder, Love For His People Ministry

P.S. I am going back to Israel Oct. 23-Nov. 12, 2022 for more Love For His People Ministry, and bringing my friend for over 25 years Edgar Persad with me. This will be his 1st trip to Israel, and he will be 70 on July 4, 2023. Never too late to go to the Land and serve His people!

P.S.S. Ever get a new hardback for only $12.95? Well, now you can! My last book entitled Silence Is Not Golden is only $12.95. The paperback is $9.95. You can Buy now.
It Will Cost You

"David was prospering in all his ways for the Lord was with him. When Saul saw that he was prospering greatly, he dreaded him. But all Israel and Judah loved David, and he went out and came in before them." 1 Samuel18:14-16, NASU There are so many lessons we can learn from the relationship between King Saul and David, before David replaced him as king, as portrayed and written in the book of 1 Samuel.

1. The attempt by Saul to give David his armor and weapons to go up against Goliath - use what the Lord has given you and not another's.

2. The time Saul sent David out to kill 100 Philistines to win his daughter Michael in marriage, but mostly desiring to get David killed - your evil intentions will not succeed.

3. When David played the harp in worship to the Lord, and yet Saul threw his javelin at him with the intent to kill – what is in your heart will be made known.

4. The removal of Saul as king and replaced by David – disobey and you will be let go, and another put in your place who will obey.

One had the hand of God upon him, chosen and anointed. The other had originally been chosen but disobeyed the Lord when told to destroy the entire enemy of Israel, resulting in his dismissal from kingship. It will cost you.

"Now Saul was afraid of David, because the Lord was with him, but had departed from Saul. Therefore, Saul removed him from his presence, and made him his captain over a thousand; and he went out and came in before the people. And David behaved wisely in all his ways, and the Lord was with him. Therefore, when Saul saw that he behaved very wisely, he was afraid of him. But all Israel and Judah loved David, because he went out and came in before them." 1 Samuel 18:12-16, NKJV

We all have seen situations whereby one is surpassed by another, as the Lord sees the heart and observes the obedience because of hearing and obeying. One heeds the cost and yet goes on. The other chooses another way and in the end, loses out.

There have been times when the mantle of the Lord is given to one to perform His will but then is removed when disobedience in hearing and doing is chosen, rather than walking in faith and trusting the Lord to accomplish which we know we can't in our own strength and determination. Saul had the opportunity to lead the nation of Israel and conquer their enemies, but he failed to obey, and the prophet Samuel was given the task to anoint another who would obey the Lord's commands.

"Then the word of the Lord came to Samuel, saying, 11 " I regret that I have made Saul king, for he has turned back from following Me and has not carried out My commands." 1 Samuel 15:10-11, NASU

We are all called to seek and follow the Lord and heed His voice as He leads us in the way we are to go. We all are given the opportunity to succeed, to venture out, to take risks (it's a faith walk!) while all the time saying, "Lord, if you don't come through, I am sunk." But then He does come through, and trust continues to build in His Word.

As the Lord calls us to rise up and do what He knows we can and should do through His grace and power, we will succeed in accomplishing mighty things in His Name. But it will cost us.

If we shrink back and say, "It can't be done", or "I won't do it", we will lose. If we say, "Yes, Lord, in faith I will do it", and do it, though it will cost us to go forward, we will win. The choice is always ours.

Our walk with the Lord Jesus, Yeshua, is one requiring faith in every step of the way. It can be adventurous and challenging, but in the end it will all be worth it and the crown will be ours.

Go and do that which the Lord has put in your heart to do. He is with you.

Ahava and shalom,

Steve Martin

Message #110 in this series – in the year of our Lord 09.20.2022 – "It Will Cost You", Tuesday, 5:55 am in Charlotte, North Carolina
SILENCE IS NOT GOLDENby Steve Martin (published August 21, 2022)

There was a song popular in 1967 entitled, "Silence Is Golden" by The Tremeloes. They were a British band sharing their songs there and in the USA.

But that was then. This is now. We are not to be silent when our voices and courage are to be loud and strong.As believers in the Lord Jesus Christ, we are called to speak His Word, share His love, do that which He has commissioned and ordained us to do. That means speaking up.

SILENCE IS NOT GOLDEN are messages to inspire and encourage you to speak, write, go, and do that which the Lord has put in your heart to do. We must do it now, or it will be too late.

It is our moment to shine. It is our time, given to us by the Lord Jesus Christ, to take His love, His life, to a needing and dying world. His sacrifice on the cross, His death, His resurrection, had brought Him to this earth to save the nations. Not one. Not two. But all. And He has called us to let the world know.

Do not be silent, for silence is not golden.

Through the Jewish people, whom He chose to express His eternal love, He has shown that He is able to deliver what He has promised and will fulfill all that He has yet to finish. Just look at Israel and the return of the Jews after centuries. It is all in the prophetic Scriptures.

This book is to encourage you to speak up, stand up, be the one whom the Lord has called, appointed, and anointed you to be.

As it was in a popular commercial years ago, before the "wokeness" and "cancel culture" overwhelmed the people with its godless agenda, the USA Armed Services had the statement, "Be all you can be."My word to you is, "Be all He has called you to be!"With this, I hope you read the inspired words the Holy Spirit has given me, and for those not quite into "reading" – enjoy the many photos and images I include!

Steve MartinCharlotte, North Carolina USA

To purchase on Amazon: SILENCE IS NOT GOLDEN- Paperback $9.95 Hardback $12.95 E-book $2.99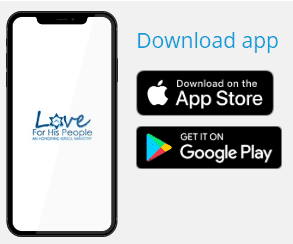 SPECIAL NOTE: Our ministry's mobile app is available for iPhones and Androids. This is a free app download. Look here: Love For His People free phone app

Love For His People Ministry. is a charitable, USA humanitarian ministry started in 2010 to share the love of the Father in the nations, especially to and within Israel. If these letters minister to you, please consider sending a charitable gift of $5-$25 today, and maybe each month, to help us bless known families in Israel, whom we consistently help through our humanitarian ministry. Go here for safe ONLINE GIFT GIVING THROUGH OUR WEBSITE using major credit cards, Zelle, or PayPal Contribution checks can be sent to: Love For His People Ministry P.O. Box 53 Pineville, NC 28134Todah rabah! (Hebrew – Thank you very much.)

Please share this encouraging message with your friends.

Email: loveforhispeople@gmail.commartinlighthouse@gmail.com
Full website:Love For His People Ministry
Facebook page: Steve Martin
Twitter: Martinlighthouse
Blog: Love For His People
YouTube: Steve Martin/Love For His People, Ahava Moments With You

SPECIAL NOTE: Our ministry's mobile app is available for iPhones and Androids. This is a free app download. Look here: Love For His People - sign up/free app

You can sign up for my email messages: Love For His People. The sign-up form is on our ministry website: ministry newsletter E-mail: loveforhispeople@gmail.com